The Sisters of Mercy are a motorcycle gang that show up early in the book, Mud, Blood and Motocross. Bad girls on bike? You know they're trouble.
Or are they?
Are they just a group of girls that has ridden down the wrong road?
Here's an excerpt from Mud, Blood and Motocross:
"Whoow! That's hot!" Tweety stopped in his tracks and stared past the crowd to the other side of the field at the edge of the parking lot as a female rider mounted a street bike.
Nick, Finn, and Kat peered through the crowd to look. Her bike was a new BMW GS 1200 with a custom gold paint job and white wings painted on the side of the tank. There were metallic flecks in the base paint that made the whole bike glitter in the sun. Adding to the effect, the rider was wearing skintight gold pants, a matching gold jacket, and a gold-and-white helmet. As she pulled away, doing a small burnout, Nick saw what looked like praying hands holding a rosary, circled in pinkish-gold roses, on the back of her jacket.
"Whoow. That's hot," Tweety repeated.
The smell of burned rubber drifted their way.
"She had a helmet on, Tweety. You don't know what she looked like," Nick said, turning away.
"Yeah, she's probably ugly," Finn said dismissively, all the while never taking his eyes from the golden rider vanishing into the distance.
"An ugly girl would not wear an outfit like that. Or ride a bike like that. It goes against the laws of physics," Tweety said.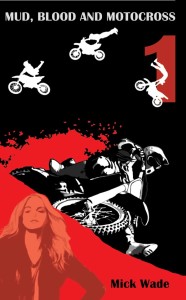 The graphic novel is based on the book series, Mud, Blood and Motocross. If you can't wait to find out what happens, check out the novels on Amazon: http://www.amazon.com/Mick-Wade/e/B006R6AJVQ

If you'd like to follow along on the adventure, sign up below and get a weekly dose of Mud, Blood and Motocross delivered to your inbox.